Mainland
Sugawara Shrine's Two-Arched Bridge and Irises
The contrast with the two-arched bridge is beautiful.
It is said that the Sugawara Shrine was built on reclaimed land in the Yoshihama District during the Edo Period to worship the local Shinto god. Its precincts contain approximately 2,000 irises living en masse in the Mitarai pond. During May of every year, the bright bluish purple flowers are a pleasure on the eyes. The contrast between them and the two-arched stone bridge spanning the pond is exquisite.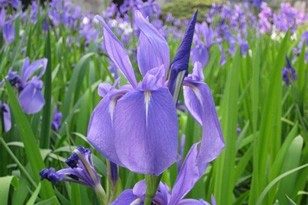 Irises
It is said that "Any iris is an iris, but just by a different name." The particular type of iris grown is known as the "rabbitear iris," and it closely resembles the "Siberian iris" and the "Japanese iris." There a different ways to tell them apart. The ones which have a web or mesh-like pattern at the base of the petal are Siberian irises. Those with a yellow pattern are the Japanese irises. The rabbitear iris has a white pattern.
Best time to see: Early to late May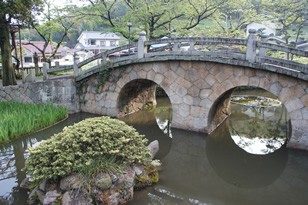 Two-Arched Bridge
The two-arched stone bridge over the Mitarai pond was built in 1887 by Toyokichi (Toyozo) Sato, the master mason in his local area of Yoshihama-mura. The "full-circle" arches of the stone bridge are a rarity in the entire country and have been designated as an Important Cultural Property by the prefecture.
The bridge is referred to as a "Megane (Eyeglasses) Bridge" in Japanese. When viewed together with their reflections on the water's surface, the arches appear as "full-circle" arches as opposed to semi-circular arches, making them resemble eyeglasses, or "Megane."
Overview
Address

1661 Yoshihama, Kasaoka City, Okayama Prefecture, Japan 714-0074

Access

Ikasa Bus Corporation, Kasaoka – Fukuyama Line. Get off at "Yoshihama" Stop. Walk for about 1 minute.
5.6 km from the Kasaoka Interchange on the Sanyo Expressway

Note

When the flowers are at their best time to enjoy, walking tours are conducted around the irises at Sugawara Shrine and other notable spots in the vicinity. Click here to make an inquiry.
MAP