Mainland
Kasaoka Sun Plaza
Walk about 3 km along the end embankment on the reclaimed land on Kasaoka Bay and you will come to a multi-purpose park. With its beds of flowers which bloom throughout the year along the promenades and the rows of stone statues, it is the perfect place to go strolling or jogging. In addition, it has a place for roller skating and a BMX biking course, which everyone from children to adults can enjoy. During the evening, the fountains produce a beautiful illumination. Bicycles and other toys and equipment to use to enjoy the park can be borrowed free of charge at the Administration Building.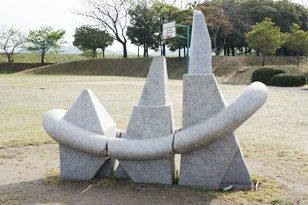 Park of Statues
Here you can see rows of mysterious statues, made from various types of stone. We recommend you spend a little bit of time viewing them as works of art.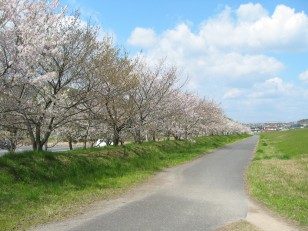 Senbon Zakura (Thousands of Cherry Trees)
Walking about 3 km along the embankment on the reclaimed land in Kasaoka Bay will bring you to an area where a species known as Oshima Cherries grow. Here they are affectionately called "Senbon Zakura."
Best time to see: Early to late April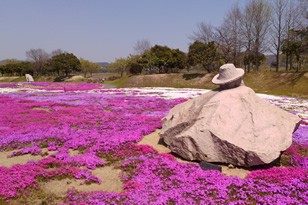 Moss Phlox
The plaza contains one of the few places in the prefecture to see moss phlox. During the best time for viewing, mid-April to the end of the month, cute little flowers blossom in full glory, like a carpet surrounding stone statues.
Overview
Address

13 Kabuto Higashi-machi, Kasaoka City, Okayama Prefecture, Japan 714-0051

TEL

0865-66-2500

Hours

Usual hours * Toys and other items to use to play in the plaza are on loan 8:30 – 16:00.

Plaza Holidays


None

Entrance charge


Free

Parking

484 vehicles

Access

Ikasa Bus Corporation, Kasaoka – Shiromidai Danchi – Sogo Sports Koen – Kasaoka Line. Get off at "Kasaoka Sogo Sports Koen Mae" Stop. Walk for about 2 minutes.
5 km from the Kasaoka Interchange on the Sanyo Expressway

Website
MAP