Mainland
Dinosaur Park
You'll feel you've traveled back in time. The life-size dinosaurs are awesome!
Adjacent to the Horseshow Crab Museum, the Dinosaur Park is the first full-fledged dinosaur park in Japan. With 8 dinosaurs representing 7 species, including the Tyrannosaurus rex, on display, the park is divided into 3 zones: "Forest," "Beach," and "Ocean." The plants and other vegetation are recreations of what grew at that time. The park is filled with so much realism, you'll think you have traveled back in time to the Age of the Dinosaurs. It is an immensely popular spot to bring children.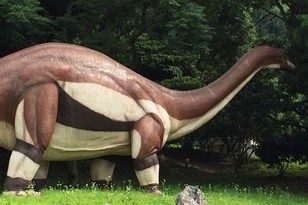 Dinosaurs Constructed Under Scientific Supervision
All of the dinosaurs exhibits were produced under scientific supervision. Three specialists studied and supervised the building of the dinosaurs: Dr. Takashi Hamada, professor emeritus at University of Tokyo; Dr. Robert T. Bakker, University of Colorado; and Dr. George L. Carrison, University of California.
Since it is theorized that dinosaurs were high-temperature "poikilotherms" (variable temperature) creatures and were highly active, the exhibits were designed with very dynamic poses. Their skin color was made similar to mammals of today living in the same type of environment.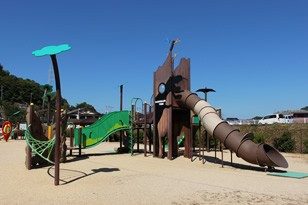 Athletic Playground
Inside the park is the "Athletic Ground" which has equipment designed with horseshoe crab and dinosaur motifs.
Kasaoka Horseshoe Crab Museum
Dinosaur Park is located in the front garden of the Horseshoe Crab Museum. The only facility in the world with the horseshoe crab as its theme, it is involved in protecting its breeding grounds and researching it as a species.
→Click here for more details.
Overview
Address

1946-2 Yoko-shima, Kasaoka City, Okayama Prefecture, Japan 714-0043

TEL

0865-67-2477 (Horseshow Crab Museum)

FAX

0865-67-2424 (Horseshow Crab Museum)

Hours

9:30 – 17:00 (last admittance until 16:30)

Holidays

Mondays, following day after a public holiday, New Year's Holiday

Entrance charge

Free (But, there is an entrance charge for the Horseshow Crab Museum)

Parking

100 vehicles

Access

Ikasa Bus Corporation, Kasaoka – Shimin Kaikan (Civic Center Hall) – Sotoura – Terama – Kasaoka Line. Get off at "Kabuto-gani Hakubutsukan" (Horseshow Crab Museum) Stop.
25 minutes from Kasaoka Interchange on the Sanyo Expressway

Web page

http://www.city.kasaoka.okayama.jp/site/kabutogani/ (Horseshoe Crab Museum)
MAP