Hi-shima Islands
Lover's Cape
Scenic Point on Hi-shima Islands
It is located part way along the road which travels the circumference of the island, affording opportunities to enjoy the ocean scenery and flowers blooming along the roadside. It is an outstanding vantage point.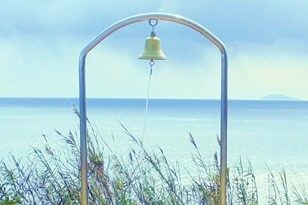 The Joining Bell
The Joining Bell was installed on Lover's Cape in February 2014. It was created with the hope of bringing people together, not only joining a couple in matrimony, but also connecting many other people to each other.
Overview
Address

Hishima, Kasaoka City, Okayama Prefecture, Japan 714-0302

Access

From the Sumiyoshi Boarding Dock at Kasaoka Port, take the regular passenger vessel (Sanyo Kisen) and travel 50 minutes to Syuko Port (Ohbi-shima Island).
* Travel times vary according to the sailing.

Walk about 15 minutes from Syuko Port.
Related Information
MAP