Ido Park is closely connected to Ido Heizaemon who was nicknamed the "Imo (Potato) Magistrate." When spring arrives, the 200 cherry trees growing in the park all come into full bloom, making the park an outstanding site to view cherry blossoms. Nearby is the Itokuji Temple where Ido Heizaemon's grave lies.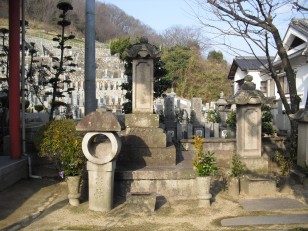 Ido Heizaemon
Ido Heizaemon was known to the world as the "Imo (Potato) Magistrate." History has it that when the entire West Japan region was suffering from a severe famine, he introduced the sweet potato, a crop that the weakened land was able to grow. This prevented people under his rule from dying of starvation.
Ido Heizaemon's gravesite is in the precincts of the Itokuji Temple close to the Ido Park.
→Click here for more details.
Overview
Transportation

10-minute walk from JR Kasaoka Station
15 minutes from the Kasaoka Interchange on the Sanyo Expressway
MAP