Mainland
Kasaoka Municipal Kyodokan Museum
Overflowing with the history of Kasaoka.
This is a facility established to present even the smallest of items to tickle the visitors intellectual curiosity, and includes important artifacts from religious services unearthed from ruins at Hi-shima Islands.
On display are earthenware and currency dug up from ruins in the city. These include nationally recognized artifacts from the Oshima Tsukumokaizuka shell mounds of the Jomon Period, and southern ruins of Ohbi-shima sandbar which existed from the Nara to Heian Periods.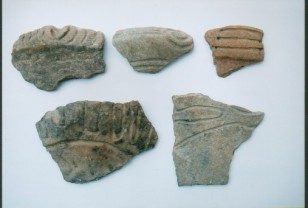 Tsukumokaizuka Shell Mounds
Discovered from the large number of Jomon Period human bones unearthed through excavation studies during the Taisho period, the exhibits include Jomon earthenware dug up from the Tsukumokaizuka shell mounds which appear in textbooks of Japanese history.
Group of Ancient Burial Mounds in Mountain Behind Chofuku Temple
This group of ancient burial mounds was created in the 5th century. Over 10 of the mounds dot the summit of the mountain. Today, there is a walkway through them known as the "Kasaoka Ancient Hill Sports Park."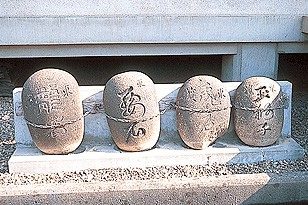 Kasaoka Bay Lifting Stones
Lifting Stones Lined Up in the Front Garden These are stones used in contests of strength by longshoremen who loaded and unloaded cargo from sailing ships in the Edo Period. The heaviest stone weighs over 200 kg, and all the stones contain the names and years of the longshoremen who were able to lift them.
概要
Address

5628-10 Kasaoka, Kasaoka City, Okayama Prefecture, Japan 714-0081

TEL

0865-69-2155 (Lifelong Studies Section, Kasaoka City)

Hours

9:00 – 17:00

Holidays

Mondays (or the following day if Monday is a public holiday),
Following day after a public holiday, New Year's Holiday (Dec. 28 to Jan. 4)

Entrance fee


General ¥50; Elementary and Junior high school students ¥20

Parking


5 vehicles

Transportation


Ikasa Bus Corporation, Kasaoka – Fukuyama Line. Get off at "Shimin Byoin (Hospital) Mae" Stop. Walk for about 2 minutes.
20 min. from the Kasaoka Interchange on the Sanyo Expressway

Website

https://www.city.kasaoka.okayama.jp/soshiki/28/kyodokan.html
MAP