Kitagi-shima Island
Cat Rock
A rock with a sad tale to tell
A rock located at a place called Nunokoshibana, in the eastern corner of the Kitagi-shima Kusunoki District, it is named because on one of its sides can be seen the profile of the head of a cat. It is believed that the profile was created quite by chance through the erosion caused by the waves. But according to one legend, a calico cat put into a boat by a general of the Taira family (Heike) during the Genji-Heike Mizushima War (1183) swam with all its might to the rock when the boat sank. Beside it are stones that were prepared but never used in the construction of Osaka Castle. Cat Rock can be seen from the regular passenger vessels pulling into Kusunoki Port.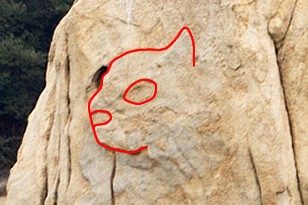 Profile of a Cat's Head
The rock is not shaped like the head of a cat, but rather a relief of a cat's head can be discerned on the face of the rock. Look at the tracing and you can see the head of a cat from the side.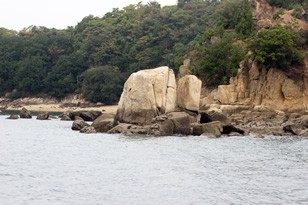 Try to See It From the Ship
The head faces out to the ocean and can only be seen while travel on the water. There is a good opportunity to see it from a regular passenger vessel when it pulls into Kusunoki Port.
Overview
| | |
| --- | --- |
| Address | Kitagi-shima-cho, Kasaoka City, Okayama Prefecture, Japan 714-0301 |
| Note | Cat Rock is not visible looking from land. But it can be seen from a regular passenger vessel entering Kusunoki Port. It cannot be seen from the ferries. You can use a water taxi to come quite close to it. |
Related Information
MAP