Mainland
Kasaoka Municipal Horseshoe Crab Museum
The Only One in the World! A museum with horseshoe crabs as its theme.

This is the only facility in the world with the horseshoe crab as its theme. It is involved in protecting the "Horseshoe Crab Breeding Grounds," a Nationally-Designated Natural Monument, and researching the crab as a species. From "larvae" (baby crabs) to adult crabs, the museum affords visitors a rare opportunity to observe horseshoe crabs up close.
Observe Living Horseshoe Crabs
Live horseshoe crabs, a species known as "living fossils" which has survived for 200 million years, are being kept here. You can view them up close.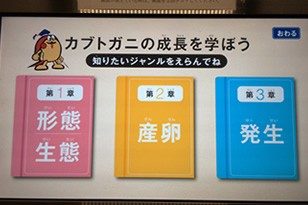 Learn About Horseshoe Crabs
A lot can be learned about horseshoe crabs from the various exhibits. On the large-screen in the 80-seat Horseshoe Crab Theater, the museum's mascot, "Kabuni-kun," teaches visitors about the crab in a fun way.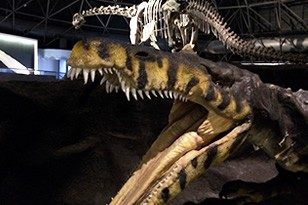 Exhibits of Dinosaur Skeletal Specimens
On display are a variety of dinosaur skeletal specimens and other exhibits of creatures living during the same period in time. The replicas of the Baryonyx which move and roar are a thrilling sight.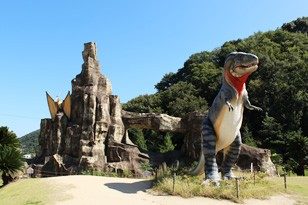 Dinosaur Park
Inside the Dinosaur Park are 8 elaborate exhibits covering 7 species, recreations of dinosaurs produced under scientific supervision.
→Click here for more details.
Overview
Address

1946-2 Yoko-shima, Kasaoka City, Okayama Prefecture, Japan 714-0043

TEL

0865-67-2477

FAX

0865-67-2424

Hours

9:30 – 17:00 (last admittance until 16:30)

Holidays

Mondays, following day after a public holiday, New Year's Holiday

Entrance fee

Adults ¥520; High school students ¥310 yen; ¥210 Elementary, Junior high school students

Parking

100 vehicles

Access

Ikasa Bus Corporation, Kasaoka – Shimin Kaikan (Civic Center Hall) – Sotoura – Terama – Kasaoka Line. Get off at "Kabuto-gani Hakubutsukan" (Horseshow Crab Museum) Stop.
9.7 km from Kasaoka Interchange on the Sanyo Expressway

Website
MAP