Mainland
Kasaoka Bay Farm Roadside Station
Restaurants cooking with fresh vegetables and local ingredients are very popular here!
With the name "Roadside Station," does that mean the chef is really the Stationmaster?
In August 2011. The Kasaoka Bay Farm Roadside Station has opened with delicacies from Kasaoka's mountains and sea, located on reclaimed land in Kasaoka Bay, so expansive it's easy to get lost in. In spring there are canola blossoms, in summer 1 million sunflowers, and cosmoses swaying in the wind in autumn. Whatever the season, the venue welcomes you cheerfully.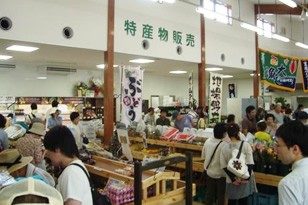 Direct Sales Area
Fresh farm produce and processed food from the reclaimed land and other Kasaoka areas are gathered together in one location. Certified vegetable sommeliers are on hand, which is very reassuring. At the Specialty Products Corner, specialty items from the Kasaoka Islands, such as dark edible seaweed and other dried products, as well as a variety of other products fill the shelves. The place is always lively and exciting.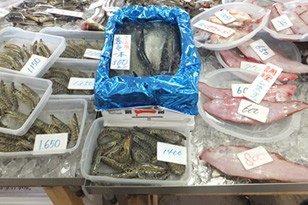 Marine Products Corner
Kasaoka means fish! The Marine Products Corner is packed with live seafood caught from around the Kasaoka Islands, and is one of the pride and joys of the Kasaoka Bay Farm. Naturally, it has enjoyed immense popularity since it opened. The side dishes and sushi are highly recommended.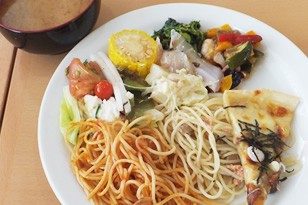 Restaurant Shikisai
The chefs here prepare Italian cuisine made mainly from local ingredients with all the chefs' heart. Even if it's just for the buffet at lunch, it's well worth your time to visit the Kasaoka Bay Farm.
→Click here for more details.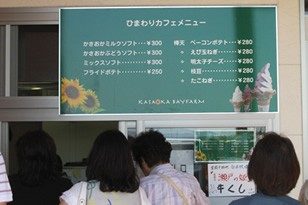 Himawari (Sunflower) Cafe
The soft ice cream mixed with milk and grapes is extremely popular! It's a take-out counter with a large menu which includes fried potatoes and skewered beef.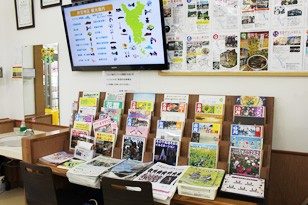 Information Corner
Where to sightsee, eat, shop, have fun… Here you will find lots of information on recommended spots in and around the city, just a short distance away.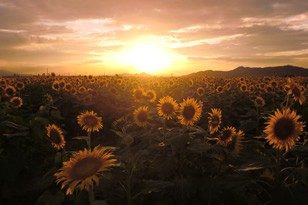 Kasaoka Bay Reclaimed Land
On the expansive Kasaoka Bay Reclaimed Land right out in front you can enjoy the flowers blooming all year around. You can also view the beautiful evening sunset here.
→Click here for more details.
Overview
| | |
| --- | --- |
| Address | 245-5 Kabuto Minami-machi, Kasaoka City, Okayama Prefecture, Japan 714-0046 |
| TEL | 0865-67-6755 |
| FAX | 0865-67-6711 |
| Access | 11 km from the Kasaoka Interchange on the Sanyo Expressway |
| Website | |
| Note | Events are held during the best times to view the various flowers. Click here to make an inquiry. |
MAP