Mu-shima Island
Mu-shima Lighthouse
The White Lighthouse Looks Spectacular Against Blue Sky.
In 1922, Okayama Prefecture's first lighthouse was built on Mu-shima Island which is located in the southernmost corner of the prefecture, and it became the symbol of the island. The south end of the island forms the main sea lane, and there you can see many large tankers, as well as Shonai Peninsula in Shikoku and the beauty of the many islands in the Seto Inland Sea.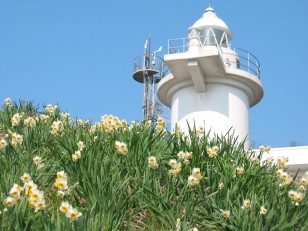 The Daffodils of Mu-shima Island
Mu-shima Island is famous as "The Island with the Lighthouse and Daffodils." Every year at the beginning of spring, the adorable white flowers bloom and the surrounding area fills with their sweet scent.
→Click here for more details.
Related Information
Overview
Address

Mu-shima, Kasaoka City, Okayama Prefecture, Japan 714-0038

Access

From the Sumiyoshi Boarding Dock at Kasaoka Port, take the regular passenger vessel (Sanyo Kisen) and travel 70 minutes (ordinary ship) to Maeura Port.
Walk about 15 minutes from Maeura Port of Mu-shima island.
MAP