Mu-shima Island
The Daffodils of Mu-shima Island
White daffodils and the lighthouse against the blue sky are the island's symbols.
Mu-shima Island is located on the southernmost point in Okayama Prefecture. Thanks in part to the hard work of the students of Mu-shima Elementary School and volunteers, the island has become widely famous as "The island with the lighthouse and daffodils." Every year at the beginning of spring, the adorable white flowers bloom and the surrounding area fills with their sweet scent. During their viewing season, large numbers of tourists from outside the prefecture come to see them.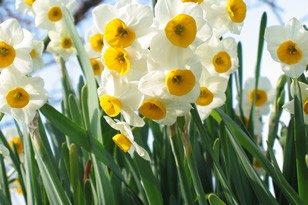 Daffodil Trail
Daffodils used to grow on a specific region on the face of Mt. Oishi on the east side of the island In 1993, students from the Mu-shima Elementary School planted daffodils on both sides of the path leading up the mountain, creating the Daffodil Trail. In addition, island residents took great pains to transplant some of the daffodils to the path leading right up to the lighthouse, so that now there are a large number of daffodils growing on the elevated area of the lighthouse.
View from the Observation Point
As you walk up heading toward the lighthouse you will come to vantage point where the Seto Inland Sea opens up in front of your eyes.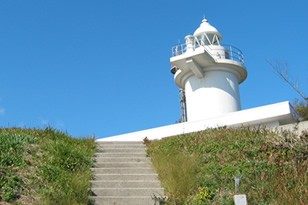 Mu-shima Lighthouse
The Mu-shima Lighthouse is the symbol of Mu-shima Island. On a clear day, the white lighthouse looks spectacular against the blue sky.
→Click here for more details.
Overview
Blooming Period


End of January to around end of February

Address

Mu-shima, Kasaoka City, Okayama Prefecture, Japan 714-0038

Access

From Kasaoka Station on the JR Sanyo Main Line, go to Sanyo Kisen Kasaoka Port Sumiyoshi Boarding Dock. Take a regular passenger vessel to Mu-shima Island (Maeura Port).
Walk about 5 minutes (Daffodil Trail) from Maeura Port of Mu-shima island.

Note

Around the time the daffodils are ready for viewing, tours of the daffodils are conducting which you can take and return on the same day. Click here to make an inquiry.
Related Information
MAP